NH Coalition for Occupational Safety and Health
Perpetual Workers Memorial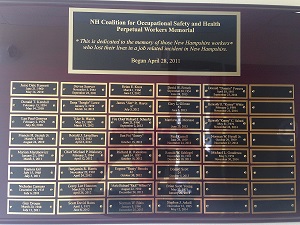 The Perpetual Workers Memorial is dedicated to the memory of those New Hampshire workers who lost their lives in a job related incident in New Hampshire. It lists the names of New Hampshire workers who have lost their lives in job related incidents since its dedication on April 28, 2011. NH COSH updates the plaque each year at our annual Workers Memorial Day dinner.

Christopher S. Hewey, 1/25/1980 - 5/16/2017
George J. Moran, 6/30/1946 - 5/17/2017
Fredrick Douglas Wilhelmi, 12/22/1984 - 5/22/2017
Mark Andrew Camire, 1/17/1985 - 7/11/2017
John Edward Davis II, 11/17/1961 - 8/5/2017
Antonio Batista De Souza, 7/25/1971- 9/19/ 2017
Jose Valdivieso, 5/30/1980 - 11/2/2017
Eric W. LaFramboise, 2/18/1982 - 11/26/2017
Dakota Labrecque, February 17, 1994 - 11/27/2017
William Marland III, 4/26/1957 - 12/4/2017
David Creighton, 11/11/1964 - 12/28/2017
*
Michael Paquette, August 31, 1958 - January 6, 2016
Edward Weeks, January 29, 1952 - January 22, 2016
Daniel Wells, July 26, 1962 - May 2, 2016
Daniel Rabideau, March 12, 1957 - May 25, 2016
Mark Tracy, December 20, 1977 - June 20, 2016
Joseph Bills, April 4, 1946 - July 6, 2016
Gilbert Menke, December 29, 1973 - July 13, 2016
Joshua Richard Bujnowski, March 19, 1984 - July 13, 2016
Thomas Wooten, November 5, 1959 - July 21, 2016
Charles Waterbury, May 31, 1960 - July 24, 2016
David Dufresne, August 22, 1963 - August 15, 2016
Brian Sullivan, June 18, 1971 - August 18, 2016
James Tarr, November 11, 1959 - September 1, 2016
Scott Evelyn, April 1, 1956 - September 24, 2016
Greg Moyer, April 10, 1983 - November 8, 2016
Donald Burgess, October 24, 1942 - November 28, 2016
*
Leo W. Plourde, December 7, 1956 - January 4, 2015
Ronald A. Morse II, December 5, 1974 - June 11, 2015
Laurence Yeaton, February 11, 1949 - June 12, 2015
Joseph Kirkland, December 24, 1968 - July 31, 2015
Patrick J. Cleary, April 9, 1971 - October 16, 2015
Laura Reed, March 16, 1961 - October 26, 2015
Eric Pittsley, September 13, 1972 - October 29, 2015
James A. Burgess, August 3, 1970 - December 2, 2015
Koty Warner, July 23, 1989 - December 3, 2015
Justin Almon, May 16, 1993 - December 19, 2015
*
Brian Young, May 23, 1971 - January 20, 2014
Stephen J. Arkell, November 18, 1965 - May 12, 2014
Donald "Donnie" Powers, April 18, 1957 - September 23, 2014
Kenneth "Kenny" White, February 2, 1949 - November 21, 2014
Kenneth "Kenny" C. Valenti, May 31, 1972 - November 24, 2014
Norman W. Hysell Jr., October 29, 1959 -November 27, 2014
Michael L. Goudreau, May 3, 1959 - November 30, 2014
*
Norman W. Blais, January 9, 1946 - December 25, 2013
David W. French, September 20, 1954 - June, 24, 2013
Gary L. Gilman, 53 - June 3, 2013
Matthew W. Morasse, 43 - June 20, 2013
Paul Russell, June 24, 1959 - November 24, 2013
Ronald W. Schlegel, November 18, 1982 - December 10, 2013
Donald Scott, 24 - October 5, 2013
*
Dana "Jungle" Lowe, January 3, 1959 - March 14, 2012
Tyler R. Walsh, May 23, 1952 - April 3, 2012
Ronald J. Lavalliere, July 12, 1952 - April 3, 2012
Chief Michael P. Maloney, February 2, 1964 - April 12, 2012
Benjamin R. Harris, November, 22 1985 - April 24, 2012
Corey Lee Houston, March 20, 1992 - April 28, 2012
Scott David Bates, April 1, 1971 - June 8, 2012
Brian E. Knox, March 1, 1960 - June 13, 2012
James "Jim" R. Hayes, April 1, 1945 - July 3, 2012
Fire Chief Richard J. Schaefer, June 21, 1960 - September 2, 2012
Sun Fei "Sonny" 31 - October 15, 2012
Richard H. Riendeau, April 14, 1937 - Octyober 18, 2012
Eugene "Rusty " Brooks, 42 - OPctober 30, 2012
Merle Richard "Rick" Wilbur IV, August 22, 1980 - December 24, 2012
*
Marion Marchowicz, January 21, 1948 - March 3, 2011
Ramon Gil, July, 15 1968 - July 5, 2011
Nicholas Camuso, December 21, 1935 - July 6, 2011
Guy Drouin, March 20, 1948 - July 12, 2011
Steven Sawyer, November 3, 1952 - September 22, 2011
*
Jesse Dale Kennett, June 21, 1960 - May 14, 2010
Donald T. Kendall, February 13, 1954 - May 14, 2010
Leo Paul Gonyea, February 2, 1976 - July 26, 2010
Francis H. Jaczuk Jr., March 9, 1946 - August 24, 2010
More Information:
2018 Workers Memorial Week
2017 Workers Memorial Week
2016 Workers' Memorial Week
2015 Workers' Memorial Day
2010 Workers Memorial Day